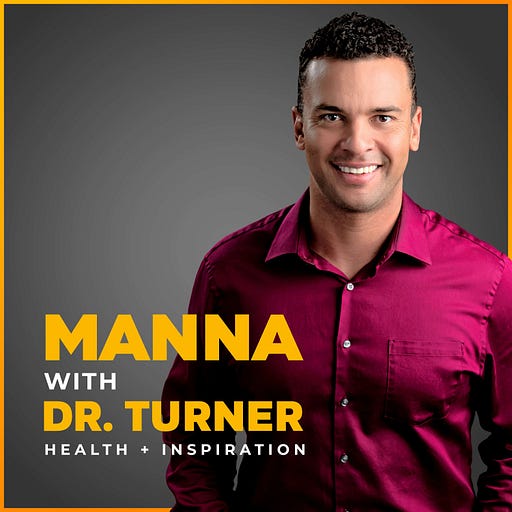 Jul 29 • 49M
Success Profiles Radio with Brian Wright
Are you looking for world-class health and wellness advice, combined with a dose of inspiration and spiritual encouragement? You've come to the right place. This is nourishment for body and soul. This is Manna and I'm Dr. Turner...Welcome!
Brian Wright, of Success Profiles Radio, hosts Dr. Turner for a revealing conversation about life, lessons learned, overcoming adversity, and other engaging topics including:
Featured on this podcast:
Did you envision early on that you would be where you are right now?

What did your path look like prior to your current career?

What is your big mission?

What was your rock bottom moment/defining moment?

What motivated you to take the Navy SEALS fitness test?

What is the one action that you WISH you would have taken?

What is the most expensive mistake you have ever made?

What is the highest value skill anyone can develop?

How do you know if your doctor is right for you?

If someone is dissatisfied with their doctor, how do you go about picking the right one?

Feeling Half Your Age: Secrets for Peak Performance After 40

Boosting Testosterone: Getting your mojo back without drugs

Healthy brain: some of the best things we can do to stay sharp at any age

What is BDNF and how can we increase the presence of BDNF in our bodies?

How do we know which supplements are best for us to take for brain health?

What issues does sunlight solve?

Staying socially engaged can be critical to health

The connection between the brain and weight loss

The science behind how we need to feel like we deserve a healthy body to fully achieve our health goals

How to get better quality sleep at night

Can dementia be prevented even if it runs in your family?

What is the single best exercise we can do to promote brain health?

What can we do to increase mental focus throughout the day?

Probiotics

Intermittent fasting
About 
Michael K. Turner, M.D., is a graduate of Stanford University, Harvard Medical School and The Mayo Clinic. He practices Integrative Medicine in his own national concierge practice, providing personalized approaches (including hormones, sleep, recovery, nutrition, supplements and exercise) to help people achieve their optimal state of health. Called "genuine", "caring", and "the best doctor in the world" by patients, he brings a high degree of empathy, trademark optimism, and a holistic approach to patient care. He brings a passion for excellence to everything he does. He believes in living and modeling a healthy, balanced lifestyle.  
What would it feel like to be as healthy as you could possibly be?